DARE TO DREAM SCHOOL ASSEMBLY
School Assembly Speaker, Eddie Cortes is on a mission to inspire students to chase their dreams.
Eddie Cortes is a school assembly speaker with an uncanny ability to engage students with compelling storytelling. His presentations are fun, honest, and thought-provoking.
In his middle school assembly, Dare to Dream, Eddie shares his childhood dream of playing baseball for the New York Yankees. He describes his love for the game with great enthusiasm and the agony of heartbreak when Mr. Cortes realizes he is not good enough to play baseball. From that point forward Eddie stops believing in himself and stops chasing his dream.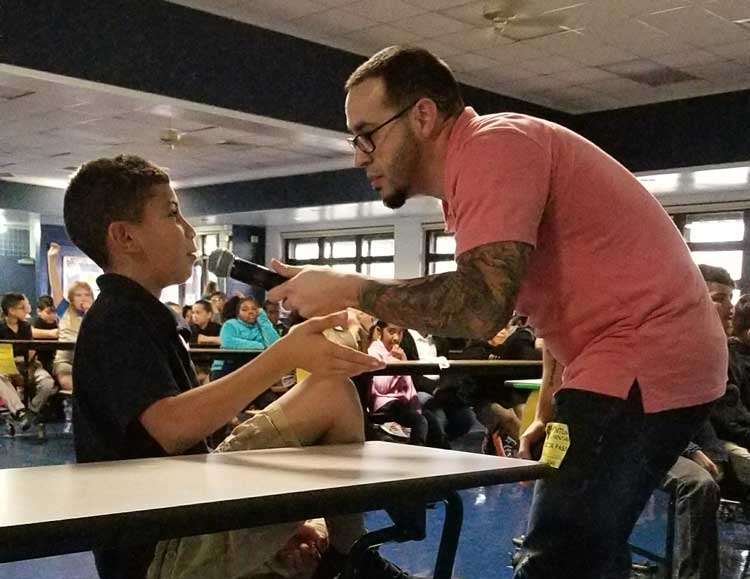 "Eddie was real. He connected with the students and delivered an engaging message."
Eddie's convinced that when students stop believing in themselves they stop chasing their dreams.
In his presentation, Mr. Cortes, will empower students to see past their limitations and strive for the impossible. Eddie will inspire them to believe and chase their dreams.
Students will learn:
✔️to focus on what they can do
✔️obstacles are opportunities
✔️education is key to unlocking dreams
Eddie eventually started believing and dreaming again. Today he's living his dream of inspiring students to believe in theirs.
If you are interested to learn more about the Dare to Dream school assembly click here or email booking@eddiecortes.com to schedule a call with Eddie Cortes.
ABOUT EDDIE CORTES
Eddie Cortes has been working with teenagers in one capacity or another for over 20 years. His message is empowering, yet his greatest value is his ability to engage students. Eddie understands their culture, speaks their language, and is able to connect his message with their reality. This makes Eddie the perfect speaker for your next school assembly.
To learn more about Youth Motivational Speaker Eddie Cortes click here.